LEZI: AN AWARD-WINNING EXTRA VIRGIN ORGANIC OLIVE OIL FROM KALAMATA
digitalbox, 3 years ago
3 min

read
1789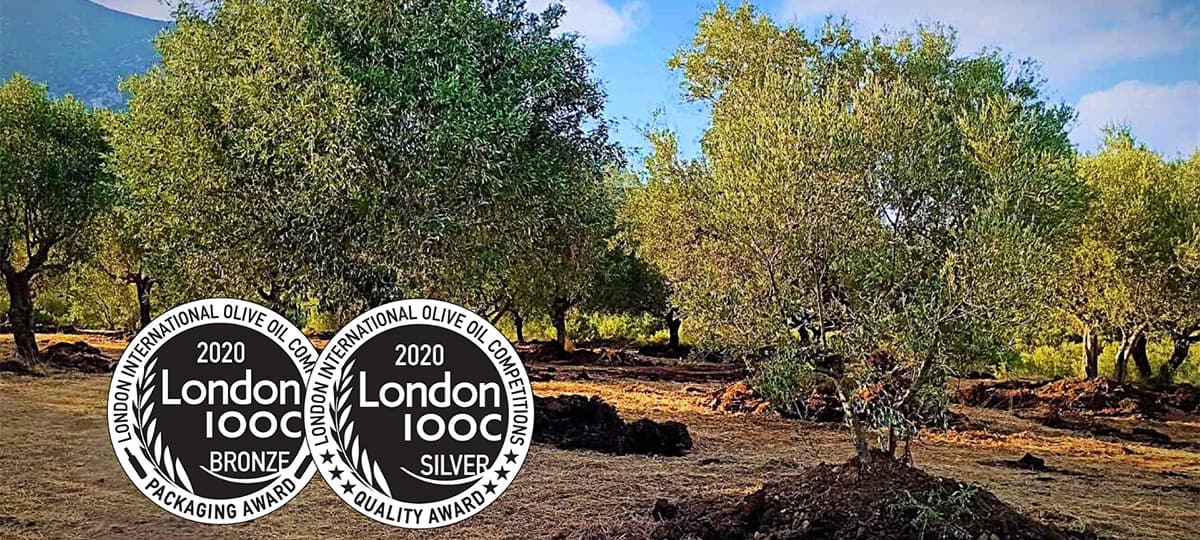 Lezi olive oil, named after the old name of the picturesque village it originates from (the village today is called Lampena), is one of the finest extra virgin organic olive oils produced in Greece.
It comes from the koroneiki variety, a legendary variety known for its high quality olive oil yields characterised by low acidity and high polyphenols levels.
Its production follows the cold-pressed method, in which pressure is exerted on the olive fruit to extract the juice without temperature, thus preserving all its valuable nutrients. The result is the production of a superior quality product, with an intense fruity taste, balanced aroma, and deep green color.
The Lezi "from soil to soul" motto represents the values of the Theodoropoulos family marking the journey of its olive οil production, from its fertile ancestral land to the beloved and nourishing Mediterranean diet staple: the olive oil.
At the foot of Mount Ithomi, one step away from Ancient Messini in Greece, the Theodoropoulos family has been producing premium quality extra virgin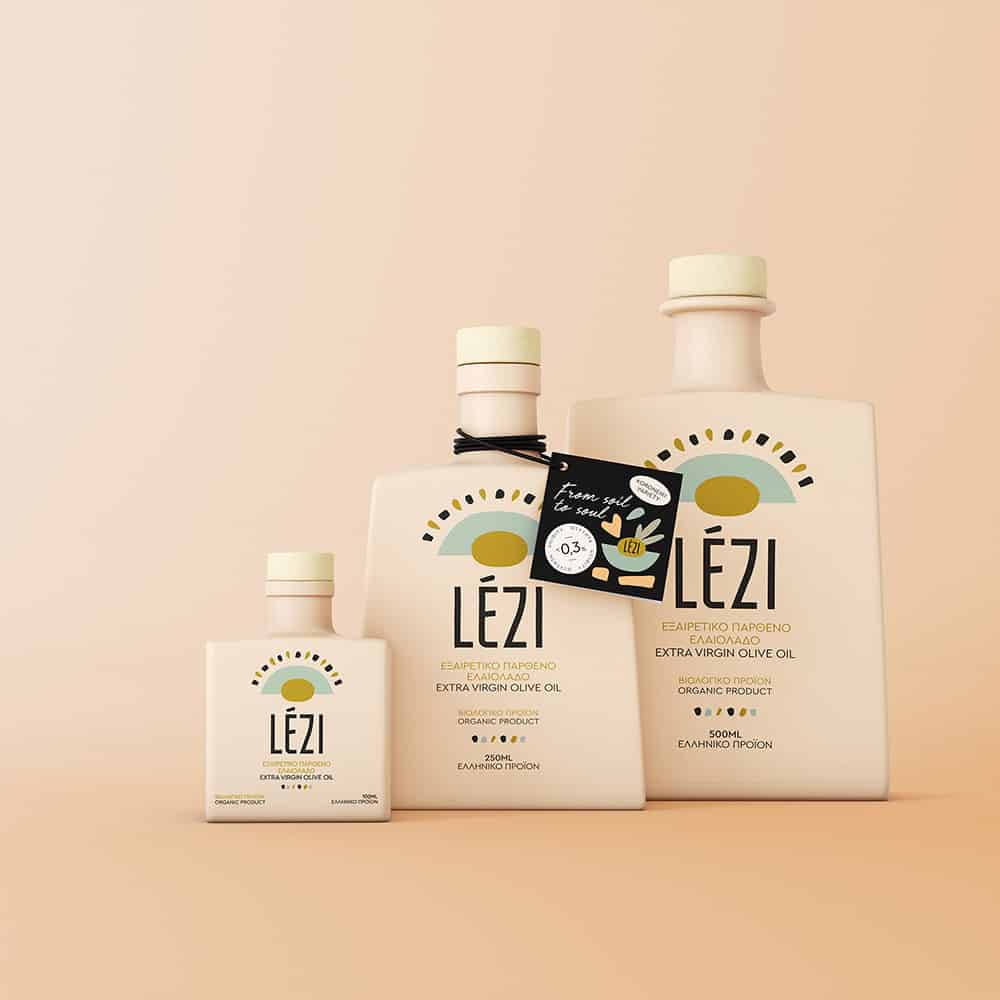 Organic olive oil for generations
History
In 1947, grandfather Thanasis started his first olive grove in the area of Lampena near Kalamata. Known as Lezi at the time, it was in this enchanting place with stone architecture, spectacular views and countless olive groves where grandfather Thanasis took care of his olive trees with his bare hands and a lot of love and care.
The maintenance and extension of the family's olive groves was largely achieved by Fotis, the youngest son of the family, when he joined the programme of organic farming becoming one of the first farmers in Messinia to enroll.
Today, Thanasis Theodoropoulos who represents the third generation of the family, continues the tradition producing premium extra virgin organic olive oil from over 1,500 olive trees.
The Lezi Collection
The award-winning packaging was designed by Elia Laourda in a minimalist aesthetic. The bottle was dyed using silk screen printing in a pastel natural colour and the stylized architectural elements of the village in conjunction with the clean typography create a modern packaging that stands out.
The Lezi Collection consists of organic extra virgin olive oil, with low acidity, rich in fruity aromas, deep green in colour with a wonderful bitter and spicy flavour in four different sizes.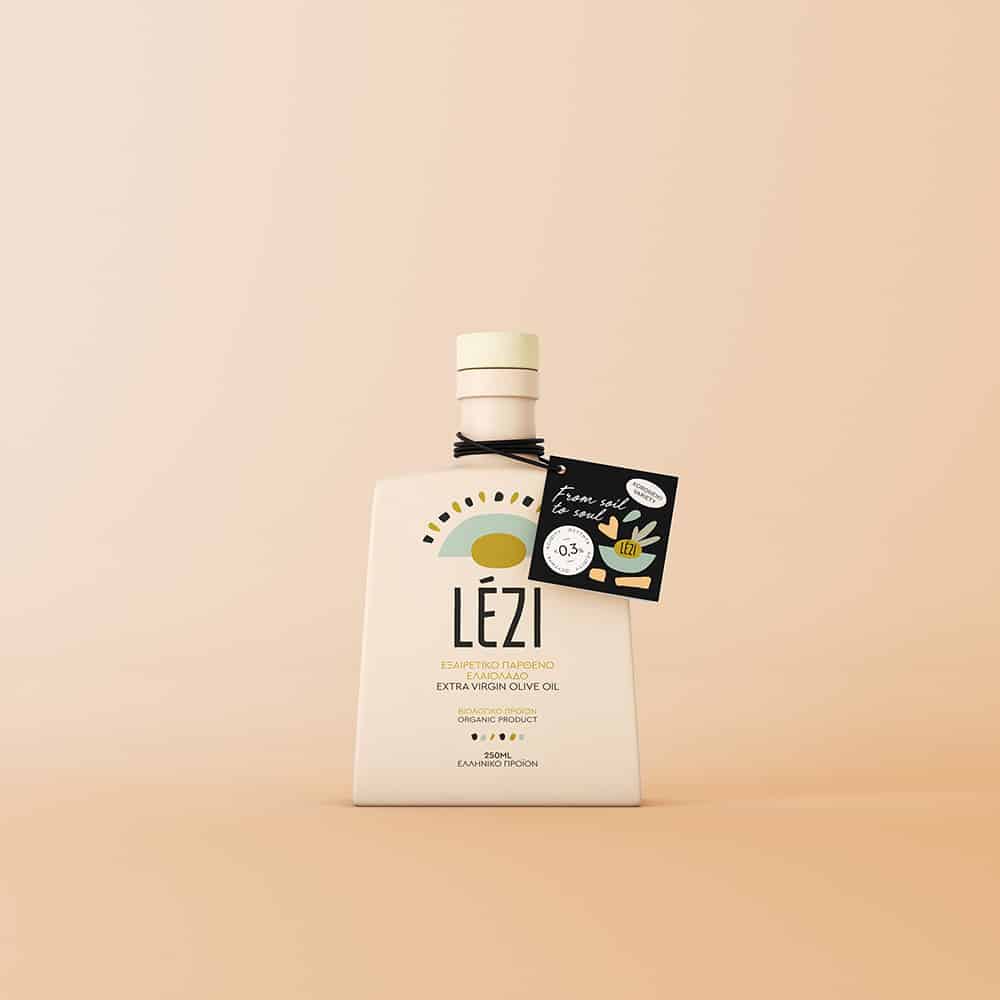 Small Treasure 100ml
The simple design of this small square bottle combined with the intense aromas and the rich taste of olive oil emphasizes its authentic character and high quality.
The Classic 250ml
The elegant and minimal bottle painted in natural color is inspired by the ancient Greek ceramic vessels. Classic but not ordinary, the opaque surface prevents the penetration of light while preserving the valuable components of the olive oil.
The Big One 500ml
The largest of the series, imposing and elegant, is equally easy to use. All Lezi bottles have a flow regulator and have received international acclaim for their quality and design.
A family edition with the characteristics of the Lezi brand: lezioliveoil.com– lezioliveoil@gmail.com