Hot salad with potatoes, artichokes and savory greens
digitalbox, 3 years ago
2 min

read
2059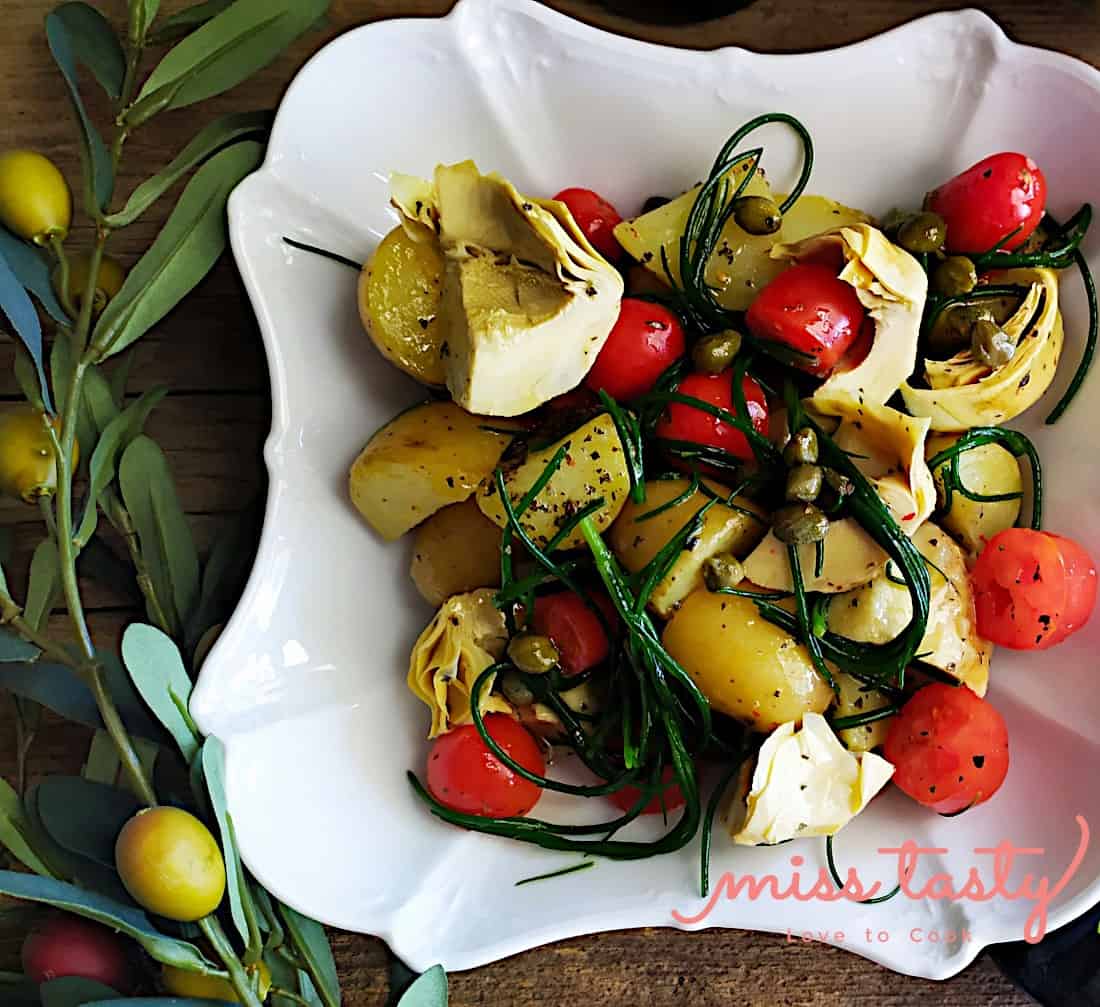 Portions:              4
Execution time: 30 minutes
Cooking time:    20 minutes
Pot :                       26 cm
When Mrs.Valia Kelidou called me about the olive oil that her family produces in their KYKLOPAS olive mill in Alexandroupolis Greece, I noticed that when she was speaking  to me about those products, she was so zealous! Indeed, when Valia sent to me to taste some olive oil dressing with basil and their Agoureleo (unripe olive oil), I realize that she was very modest. I realized the beauty and the worth of using in your recipes genuine products from Greek farmers who are trying with all their heart to upgrade their product, promote it and promote our country as well…
I prepared a wonderful salad for you. If you can't find savory greens, you can use regular greens. Just be sure to prepare them with all the rest ingredients of the recipe!
I am always looking forward to your feedback…
Ingredients

750 gr baby potatoes unpeeled
100 gr savory greens
200 gr of artichokes in oil
200 gr of cherry tomatoes
3 soup spoons ful of caper
For dressing
4 soup spoonful of olive oil flavored with basil
3 tee spoonful sweet balsamic cream with orange and lemon
Salt and pepper
1 tea spoonful of dry sweet basil
1 lemon juice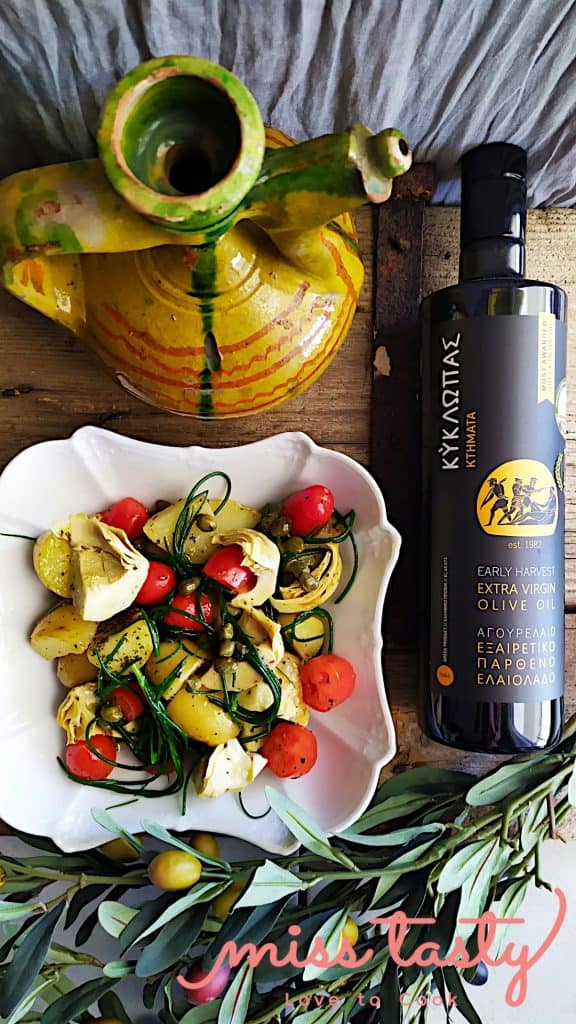 Preparation
We prepare the savory greens. We wash the mand cut the hard edges. Then we boil them in salted water for 3 minutes. Drain and set aside.
We prepare our potatoes. We boil our unpeeled potatoes in salted water that was boiling for about 20 minutes. We let the potatoes boil until they can be pierced easily with a knife. Drain them and set aside.
We prepare the dressing of our salad. Mix all the ingredients for the dressing very well in a bowl. We set aside.
We compose our salad. In a deep salad bowl, we put our potatoes, the artichokes that we drained before from their oil and cut them in 4, the cherry tomatoes cut in two, the savory greens and the caper.
Add the dressing on top and mix gently so it goes everywhere through all ingredients.
We enjoy it warm or at room temperature!
It is just what you need for a main course!
Original  Recipe here:   https://www.misstasty.gr/recipe/zesti-salata-patates-agkinares-almyra-chorta/