THE OLIVE OIL INDUSTRY IN JORDAN
digitalbox, 3 years ago
8 min

read
3948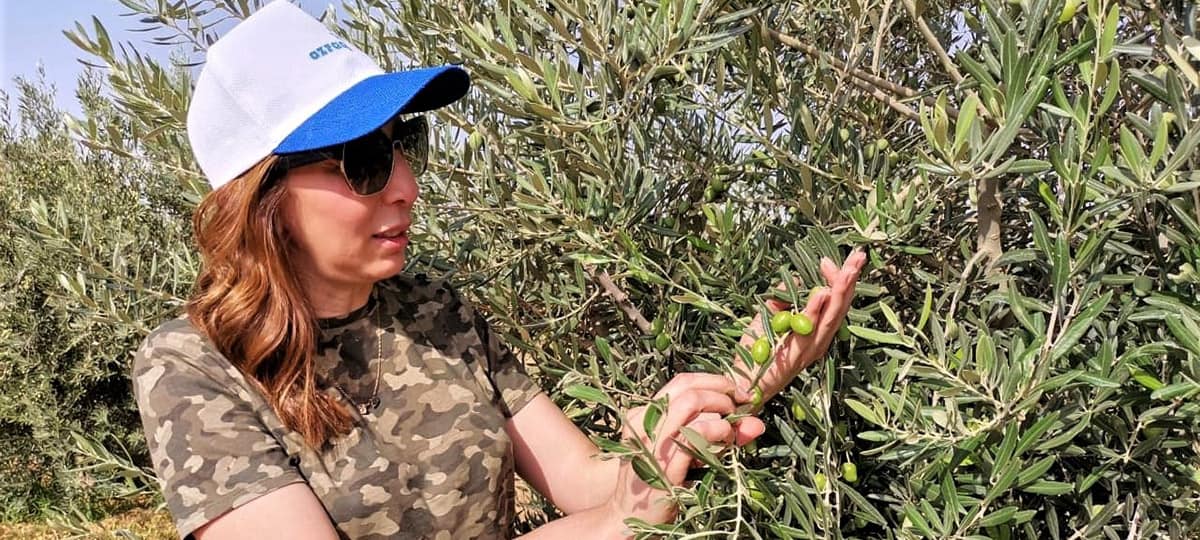 The olive (Olea europaea) is a shrub tree native to the Mediterranean Basin since the sixth century B.C.20. It is believed that Syria, Palestine, Lebanon, and Jordan are the origin from where it was spread to the rest of the world.
Jordan is a homeland for some of the oldest olive trees, revealed excavations in Wadi Rum area conducted in cooperation between the Jordanian team and the French for "the village (Hidab Al-reeh) in the valley of Sabt. "Through carbon analysis of charred wood and used in the fire found to be of olive trees, indicating that the region was grown olives since 5400 BC."
This elegant, long-lived tree is divine for Jordanians since it was cited in all holly books. It was a source of wealth, useful for light, heat, food, medicine, and perfume.
Furthermore, historically, the olive tree has always been considered as a symbol of peace, purification, fertility, wisdom, triumph and power. Jordanians are culturally and socially attached to the olive tree. It is embedded in their local heritage and is always included in their dietary system. This in turn makes it most nutritionally valued and treasured as a national product.
Due to water scarcity in Jordan, olive tree is considered one the most feasible and suitable for such environment. Being a natural renewable resource, the olive tree decreases soil erosion and hence is considered an essential factor that fights desertification Olive represents 80% of the trees cultivated in Jordan covering half of the planted area.
The large volume of investments in this sector, which is estimated more than one billion JD including the value of cultivated lands. The value of annual contribution of olive products in GDP which is estimated more than 100 million JD.
On the other hand, although olive farming does not contribute with high percentage of value added in the Jordanian national economy, it has an important role in socio-economic development as it contributes considerably in rural areas. In the areas of low-income farmers, especially mountainous, only olive trees can survive and help in generating income due to its relatively low effort – low cost farming.
It's a source of income for more than (80) thousand families.
Although there are no accurate data on the number of human resource employed in this sector, a study made by the Ministry of Agriculture estimated the need for 17,000 workers to work in the olive picking season from October till February, 2,500 workers for land cultivation and maintenance from October till March and 4,500 workers for olive trees trimming. Hence, the estimation for this seasonal employment cost is approximately $11 million excluding the fees of full-time workers like farmers' guards who are paid on a monthly basis irrespective to the seasonal production. Mainly in the rain-fed areas which constitute 77% of olive planted areas.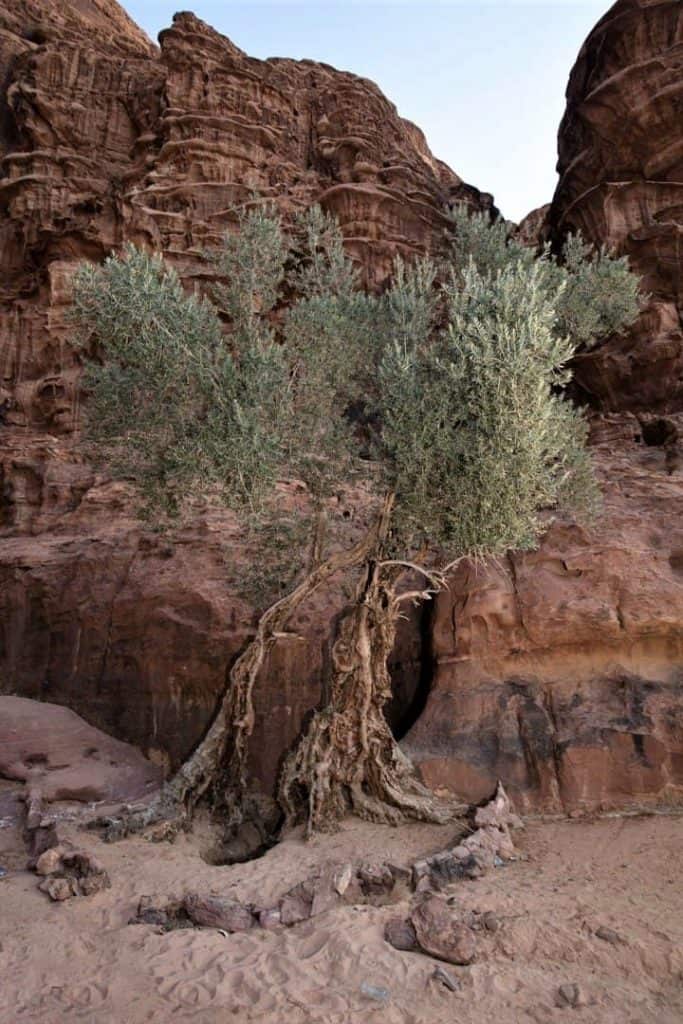 Cultivated area of olive trees in Jordan
Rain-fed areas, which cover77% are owned by small farmers whose ownership is fragmented due to land inheritance from one generation to another.
In other hand, irrigated trees, which cover 23% of cultivated areas, owned by large investors who invest in different types of fruitful olive trees and incur higher production cost.
Both rain-fed and irrigated areas suffer from fluctuations of production quantity due to the olive tree bearing phenomenon, i.e. alternation of good year and bad year of olive production which in turn affects the income and price of olive oil.
Each producing region pursues a very different olive cultivation pattern. In the rainfed mountainous area, farms tend to be small. Olive growing is carried out in a very traditional way with minimal use of chemical fertilizers and pesticides. As a result, production costs as well as productivity are relatively low, and pests, especially the olive fly, are rather common. In the irrigated eastern area, farms are larger. Production costs and productivity are higher since fertilizers are widely used and other agricultural practices like plowing, weeding and trimming are more common. The olive trees planted in Jordan belong to the dual-purpose type, this means that their fruits are used to make oil as well as table olives. The predominant olive varieties are Nabali and Rasie, both indigenous, which seem to have been cultivated in the area for centuries. Another local variety called Souri, cultivated in the provinces of Ajloun and Jerash, has very good and differentiated organoleptic characteristics according to local experts. Many other varieties, most of them of Italian origin, are also grown in Jordan.
Olive farming in Jordan has important environmental and social implications. Olive trees reduce soil erosion during the rainy season by providing cover to parched soils, thereby lessening the impact of rain on fragile soils. Hence, olive trees are one of the leading agents against desertification; helping to maintain the inherited, traditional landscape. Furthermore, olive groves are highly valued recreational areas in a country where forests are almost non-existent. Additionally, olive farming makes a significant contribution to employment, particularly the employment of the rural population. Many of the poorest farmers in the mountainous regions produce olives, since in this rocky, sandy soil, no other crops grow or rather; no other agricultural activities can be pursued.
Olive Mills
There are 131 modern Oil Olive mills installed and distributed all over Jordan.
8 of them are traditional mills,111 of them are using the modern three phase system & 12 using the modern two-phase system.
The stockholder relevant to the olive sector:
Olives Producers & Mills Owners Association was formed in 1994 its goals:
Develop the image of Jordanian olive mills
Assist in the development of quality and innovation
Represent the interest of the olive mills owners
The Jordanian Olive Products Exporters Association (JOPEA)was formed in 2004 its goals:
Brand and position the Jordanian olive products in the international market in order to promote the exports of Jordanian olive products through participation in and organization of trade fairs and exhibitions and trade delegations.
Aid in the development of quality olives and olive oil through capacity building including:
The spread of knowledge on agriculture and manufacturing best practices
Facilitating the upgrading of technology from milling, to packaging, to software.
Facilitating services including product certification, development of communication tools, market information and linkages, training seminars,
Represent the interest of all players in the sector, including farmers, millers and traders through:
Lobbying
Securing funding and subsidies from donor organizations and NGOs
Previous experience unsuccessful
Al zytoneh Al Mobarakha
Al Mutaheda
Conflicts of interest, poor team work, internal rivalry, and unstable management tenure represent the key issues facing current exporting entities, and they are the reason behind their failure.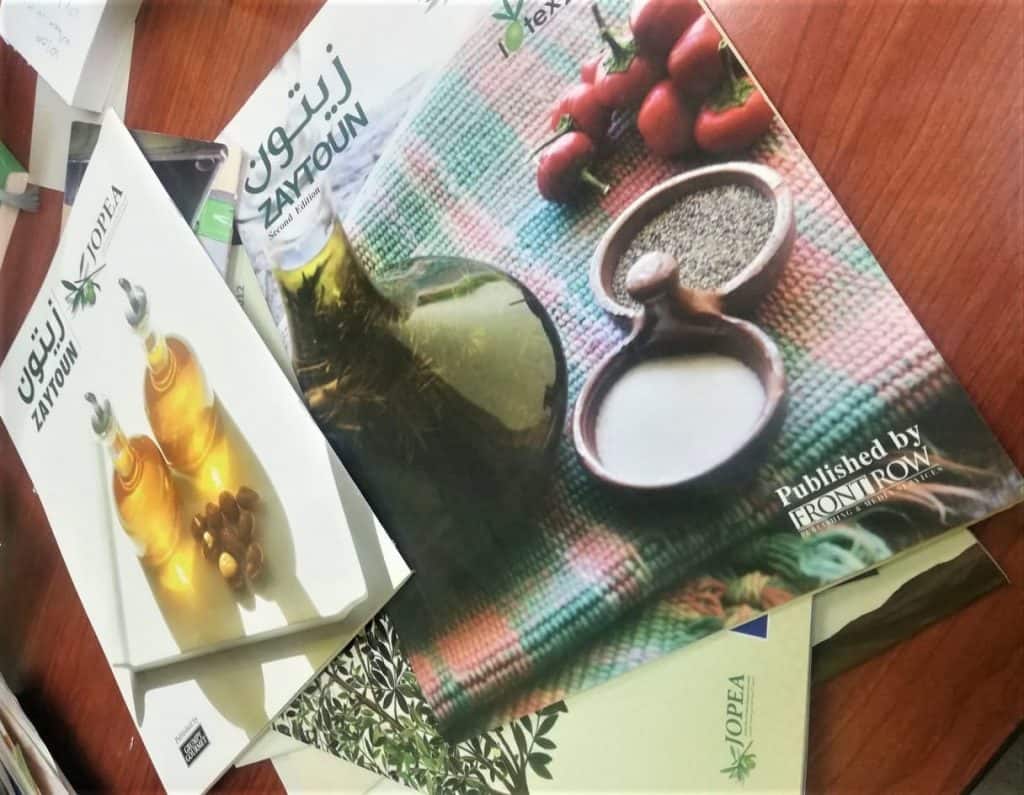 Organic Farming
Today, organic farming is practiced in almost every country in the world. According to the 2004 report of the International Federation of Organic Agriculture Movements, more than 24 million hectares of agricultural land are now managed organically across the globe, particularly in Europe, Australia and North America.
Consumers purchase organic foods for many different reasons. Many want to buy food products that are free of chemical pesticides or grown without conventional fertilizers. Some simply like to try new and different products. Product taste, concerns for the environment and the desire to avoid foods from genetically engineered organisms are among the many other reasons some consumers prefer to buy organic food products.
The main reasons farmers state for wanting to farm organically are their concerns for the environment and about working with agricultural chemicals in conventional farming systems. Organic farmers find their method of farming to be profitable and personally rewarding.
Organic farming can be a viable alternative production method for farmers, but there are many challenges, however there are some farms and mills certified as organic
Olive Oil Production in Jordan
There are round thirty different types of Olive trees present in Jordan and all of which are capable of producing excellent quality Extra Virgin Olive Oil.
The three pre-dominant types of Olive trees present are:
Nabali Olives: very high oil content between 28 to 33%. Oils have organoleptic qualities of nice light to medium fruitiness.
Rasie' Olives: The oil content present ranges from 15 to 28% and have a taste of medium fruitiness with hints of green apple.
Souri Olives: Oils of these olives have an intense fruity aroma and very differentiated organoleptic characteristics.
Olive Oil Trade in Jordan
The Jordanian olive oil is usually sold as virgin olive oil for the local market and extra virgin olive oil for the international market.
Olive oil is a growing sector with vast opportunity to develop and create international cooperation. Jordan has access to the global market through preferential trade agreements.
The characteristics of the Jordanian Olive oil sector, which can attract international cooperation are:
Jordanian Extra Virgin Olive oils have some characteristics that distinguish it; an aroma of ripe olives with hints of apple and other mature fruits with almost total absence of bitterness.
The olive oil mills and finishing facilities include the latest state of the art equipment.
Hand picking olives ensuring high quality
Minimal usage of chemicals in the cultivation of olives.
Strengths and Challenges
Strengths:
Jordan is one of the oldest historical birthplaces of the tree in the world and olive represents a deep heritage to Jordanian people.
The diversity in olive cultivars and environmental climates that give the Jordanian olive oil a unique flavor.
Availability of a specified laboratories for olive oil testing and presence of four panels accredited by IOC for tasting virgin olive oil, in addition to two panels for tasting table olive.
Challenges
High costs of production
Limited agricultural resources (especially land and water)
Low productivity of the olive tree, in general due to
Alternate bearing phenomenon.
Drought and fluctuations in the amount and distribution and the delay of rainfall.
Lack of adoption new methods in olive production in many areas.
Difficulties in treating the byproducts of milling (waste water and Husk)
Consumer behavior
Instability of prices
Marketing system